You Can Depend on Farmers Mutual Insurance Company
You can depend on Farmers Mutual Insurance Company of Nodaway County to protect your home, personal property, livestock, and more. Homeowners, large or small, turn to their local mutual insurance to protect their interests.
MAMIC High School and College Scholarship Opportunity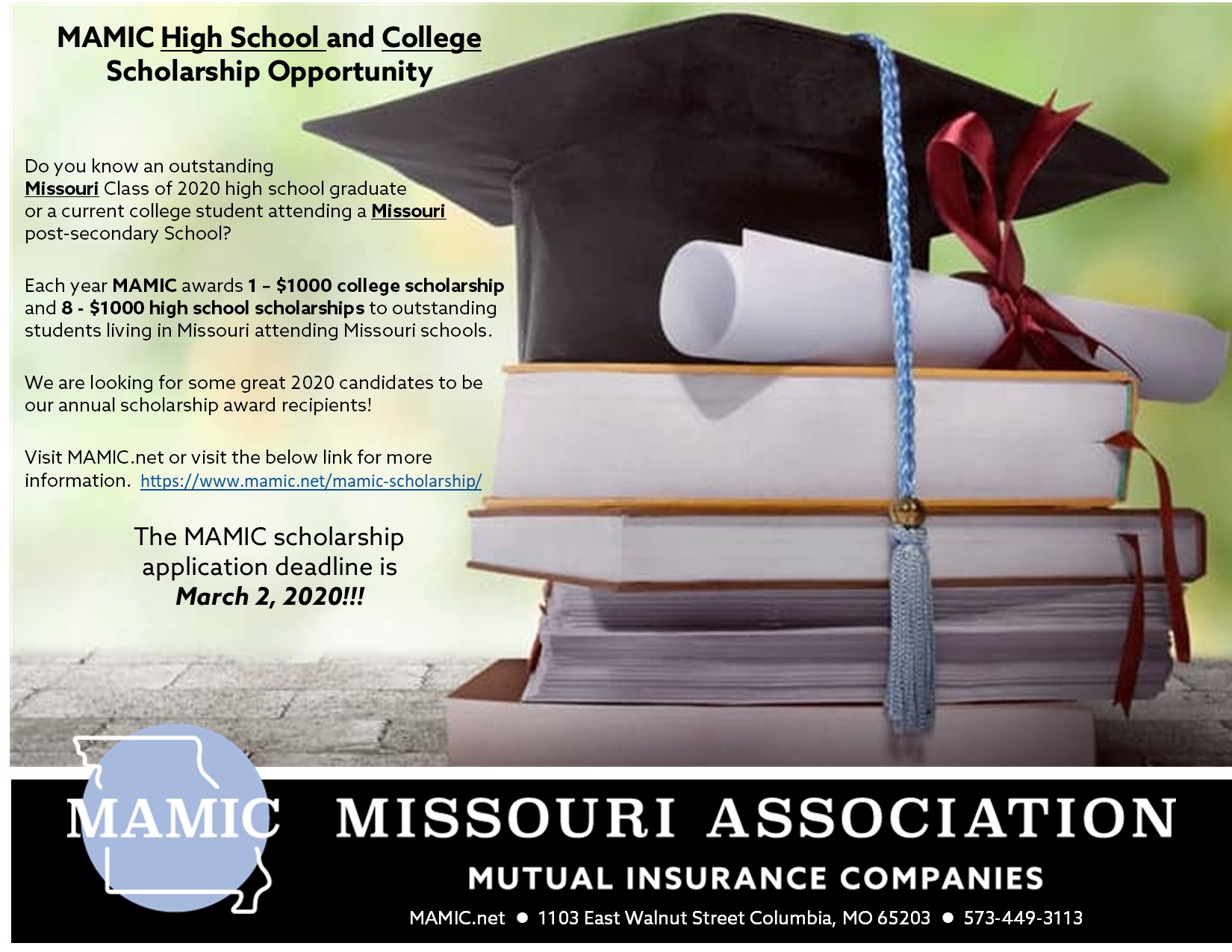 Do you know an outstanding Missouri Class of 2020 high school graduate or a current college student attending a Missouri post-secondary school?
Each year MAMIC awards 1 - $1000 college scholarship and 8 - $1000 high school scholarships to outstanding students living in Missouri attending Missouri schools.
We are looking for some great 2020 candidates to be our annual scholarship award recipients!
The MAMIC scholarship application deadline is March 2, 2020!
When completing the application, please be sure to have the student choose "FMIC – Nodaway County" under MAMIC Member Affiliation – Company Name along with the relationship of any member of the family that is affiliated with our company. That way they will be considered for the local company scholarship. Please note – the student does not need to have an affiliation to apply for the 8 MAMIC scholarships.
What We Offer
You can depend on Farmers Mutual Insurance Company of Nodaway County.

Dwelling coverage
Whether you live in town, out of town or own a rental property, we have a product for you.

Farm Property coverage
Includes coverage for sheds, equipment, livestock, etc.

Rental Coverage
Contents and liability coverage for renters.

Liability Coverage
Includes personal, farm & commercial coverage.
Become a Nodaway County Member Today!
You can depend on Farmers Mutual of Nodaway Co. to protect your home, whether in town or in the country, whether large or small. The Mutual also protects farm equipment, livestock and more.